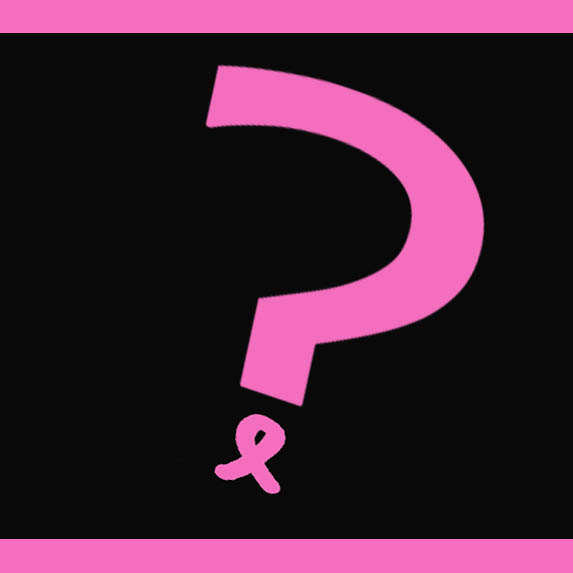 It's October. If you live in a place where autumn brings changing leaves, the world is lovely hodge-podge of browns and yellows and oranges. If you're a Halloween lover, you may be leaning into a palate of orange and black, with bruisy purples and bloody reds to round out the shades of the season. And if you set foot in an ever-increasing number of stores and restaurants in the United States, you will be welcomed with pink, pink, and more pink.
The pink ribbon for breast cancer awareness stands beside the yellow ribbon for veterans and the red ribbon for AIDS/HIV awareness as an icon of awareness-raising. October as the month dedicated to all things boob-protection-related predates the ribbon, but the first pink ribbons appeared in 1991 when the Susan G. Komen Foundation gave them to participants in their Race for the Cure fundraiser. They were adopted as the symbol of Breast Cancer Awareness Month the next year. The pink ribbon's corporate tie-ins also began then, when Self Magazine and Estee Lauder partnered to give away thousands of ribbons, attached to laminated self-exam instruction cards, at their makeup counters.
Estee Lauder had a personal connection (the head of the company was a breast cancer survivor herself), and the company has given away millions of pink ribbons and donated millions of dollars to breast cancer causes. Since their successful 1992 campaign, breast cancer has become the cause du jour for companies that want to show their consciousness.  You can find pink everything in October. NFL players don pink. The White House has been pink-lit. Newspapers run comic pages in pink tones. This year, P.F. Chang has painted the horse statues in front of their restaurants. There's more pink paraphernalia available in October than there are pumpkin-spice snacks. It's all done in the name of raising money for breast cancer prevention, treatment, and cure research.
And, of course, it's all about awareness.
Or is it?
Cause-related marketing is often seen as a win-win in which a company increases their positive reputation (and, directly or indirectly, their profits) and a charity gets donations they wouldn't have otherwise received.  Even if a corporation doesn't really care about the cause, the ends justify the means, right? More money for breast cancer prevention and treatment is always a good thing, right?
Before you buy that pink ribbon scarf-mug-journal-sneaker-vibrator (yes, really), pause. The pink ribbon is not a licensed image. That means it can be used at any time, by anyone, for any reason. Not every company that ties on a pink ribbon is actually supporting a tie-in with the cause. Of those that actually are, "a portion" of proceeds might be a lot less than you think it is, especially if the pink-mark-up is more than the amount they are giving. Breast Cancer Action is an organization that supports breast cancer patients and critiques the systems and organizations that profit from breast cancer treatment. They call this process of turning everything pink in the name of breast cancer pinkwashing. (#Pinkwashing on social networking will help you see how other organizations and individuals are critiquing Pink October and other breast cancer campaigns).

If you want Breast Cancer Awareness Month to be more than a cute campaign, here are a few things you can do to make it more meaningful.
 Stop saying you support breast cancer. You don't. You support breast cancer awareness, prevention, and research about causes and cures. You support breast cancer patients, breast cancer survivors, women (and men!) who didn't survive breast cancer, and the loved ones affected by the disease. You do not support breast cancer. Unless, perhaps, you are part of one of the companies that makes so much money off breast cancer. In that case, perhaps you do support breast cancer. It certainly supports you.
Beware of awareness. When companies go pink but don't give money to the cause, they generally fall back on the explanation that they are "creating awareness" with their tidal wave of pink goodies. If they're connecting their products to actual information and specific resources, that's one thing (still might be shady). If they're just slapping a pink ribbon on something and saying, "So, now you're thinking about breast cancer," do you still consider them part of the fight? When was the last time you did a self exam just because you saw someone with pink shoe laces?
Remember that all this pink gives some people the blues. Use sensitivity when dealing with those who've been affected by breast cancer. Not every person with breast cancer wants 900 pink ribbon gifts. Some people find them inspirational; others find them triggering, especially if they are still dealing with the disease or its aftermath.  How someone affected by breast cancer experiences pink ribbons and pink everything else may change at different stages of their journey. My Friend-Since-5th, Susan, gives me permission here to tell you  that she loved pink stuff when she was a survivor who'd lost both breasts but who'd "beaten" breast cancer…until she found out years later that it was back. Now, what was inspiration before sometimes feels like an endless reminder that metastatic breast cancer is killing her.
Think about men, too. Breast cancer strikes way more women than men, so it makes sense to talk about it as a women's health issue. But it doesn't make sense to talk about it as exclusively a women's issue. Men do have breast tissue, and they do get breast cancer. They also know and love women who are impacted by the disease. Men are almost always completely left out of Breast Cancer Awareness Month. When they are included, the spin on their participation is often that it's their one time of year to wear pink and still be considered manly. Companies whose target demographic is male and who have huge breast cancer campaigns are sometimes motivated by care for the women in their lives, but unfortunately, they are also sometimes only motivated by the trendiness of pink ribbon campaigns. Those companies know that they can show how much they "care about women" by wearing pink shirts without making any institutional changes that will piss off their male stockholders and stakeholders.
Give directly to companies that are direct. You don't have to buy pink-packaged toilet paper in order to give some unspecified amount of money to some unnamed breast cancer charity. You can just buy what you normally buy and give some money directly to a charity that really serves your community. Huge corporate campaigns most often partner with huge (and highly critiqued) national charities. Find something in your own hood and give them a few bucks or a few hours of your time.
October is winding down. If you care about breast cancer causes and you haven't done anything to support them this month, never fear. Know what happens after October? Breast cancer. It's never too late to do something that actually makes an impact.
And it's totally up to you whether you wear pink ribbon undies while you do it or not.
___________________________________________________________________________
Additional resources on #pinkwashing: